The Heart of the Stone
Stephanie Scofield
The third book of The Elements quintet
(suitable for children/adults 12 years and upwards)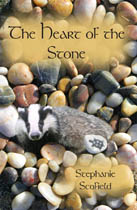 Continue following Owen's quest in the third book in The Elements series, The Heart of the Stone.

Owen returns home with the Water Sath to discover that the Fire Spirits are closing in fast and nowhere is now safe for him. Time is running out.

Together with his friends Finn, Raya and Arin, he embarks on his most challenging quest yet, journeying into the Realm of the Earth Element, a World that has fallen under the spell of the Fire Lord and stands on the brink of destruction.